(Pre-K through 12 and higher education)
Working Together to Enhance Safety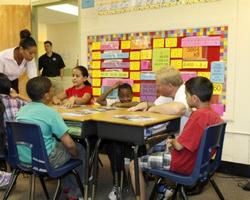 "Knowing how to respond quickly and efficiently in a crisis is critical to ensuring the safety of our schools and students. The midst of a crisis is not the time to start figuring out who ought to do what. At that moment, everyone involved – from top to bottom – should know the drill and know each other."
Margaret Spellings
Secretary of Education, 2005-2009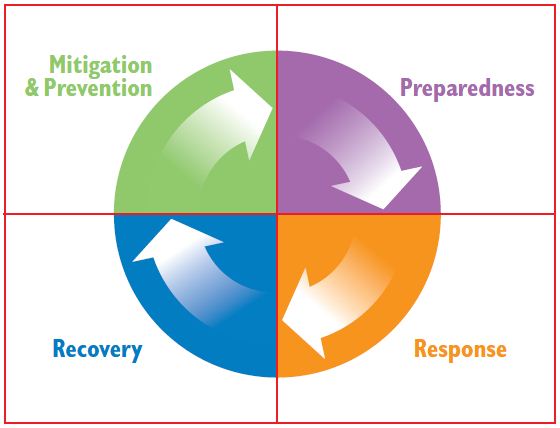 CRISIS MANAGEMENT is a continuous process. It consists of:
Mitigation/prevention — what school districts can do to reduce or eliminate risk to life and property.
Preparedness — planning for the worst-case scenario.
Response — steps to take during a crisis.
Recovery — how to restore the learning and teaching environment after a crisis.
The time to plan is now. If you do not have a crisis plan in place — develop one. If you do have a plan in place — review, update, and practice it regularly.
Types of Crisis We Address
Blackhawk Emergency Management Group prepares schools to handle all types of tragedies and catastrophic incidents:

Lockdowns/lockouts

Natural disasters (earthquake, tornado, hurricane, flood)

Severe weather

Fires

Chemical or hazardous material spills

Bus crashes

School shootings

Bomb threats

Medical emergencies

Student or staff deaths (suicide, homicide, accidental, or natural)

Acts of terror or war

Outbreaks of disease or infections
Our Products and Services
Plan comparison — research state and federal documents

Crisis planning and development

Comprehensive emergency management planning

Hazard vulnerability analysis and threat assessments

Emergency operations plan development and testing

Evacuation/reunification plan development and testing

Incident command system for educational institutions

State mandated school safety compliance

Clery Act requirement review and development

HSEEP compliant discussion and operations-based exercises

Emergency command center design and development

"Dark site" development (an emergency website available for immediate activation)

Risk communication development and validation

Emergency supply kits for classrooms and college students

Safety seminars, workshops and training
Updating and Maintaining School Emergency Management Plans
Conduct emergency exercises

Collaborate with community partners

Focus on sustainability

Conduct evaluations consistently

Prepare for multi-hazard emergencies

Reassess planning for schools at least annually
HSEEP
Let Blackhawk EMG help develop and implement your tabletops, drills and exercises. We use Master Exercise Practitioners (MEP) who have been trained by the Federal Emergency Management Agency (FEMA). The Homeland Security Exercise and Evaluation Program (HSEEP) provides a national standard for all exercises. These standards address design, development, conduct, evaluation, and improvement planning. Through exercises, the National Exercise Program helps organizations identify areas that need strengthening.
HSEEP Exercises We Provide:
Lockdowns/lockouts tabletops and drills

Policy group tabletops

Emergency Response Team tabletops

Severe injury during sports event
Severe weather (ice storm, power outage)


Shooter/athletic event

Weather/athletic road trip

Bomb threat/explosion

Sexual assault/multiple incidents

Pandemic influenza

Binge drinking/alcohol poisoning

Active shooter

Evacuation/reunification

Chemical spill/release

Any other scenario as required
Contact us today for a consultation.